Blue Trail Range hosts various shooting competitions and leagues for both junior and adult competitors.
We provide a safe environment for shooters to test their skills against other competitors or enjoy unique events like the Nutmeg State Games. We also run leagues, such as our new Midnite-Moonlite league, that give participants a chance to compete on a weekly basis. Join a league or register for a competition for a chance to win prizes or the opportunity to enjoy some friendly competition.
Note to Parents – If you do not have a long gun or pistol permit or other means of legally purchasing ammunition, click here  for the form and instructions.  Then you will have to appear to have your photograph and signature captured, submit a $35.00 fee payable by check or money order to "Treasurer, State of Connecticut" or exact cash payment, with the completed application, to the Special Licensing and Firearms Unit located at 1111 Country Club Road, Middletown, Connecticut 06457-2389.
Match Programs & Results
Connecticut State Outdoor 3-Position Regional
Connecticut State Outdoor Prone Regional
Connecticut State Outdoor Prone Championship
Connecticut State Outdoor 3-Position Championship
Gallery Match 
Junior Olympic Shooting Championship (JORC) 
King Phillip Match 
Midnite Moonlite League
NRA Sectionals 
Nutmeg State Games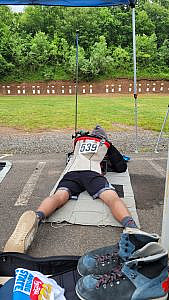 President's Match 
Swanson Match (Quaker Hill)